Reviews and recommendations are unbiased and products are independently selected. Postmedia may earn an affiliate commission on purchases made through links on this page.
Content of the article
Cuban pianist Hilario Durán and Snarky Puppy percussionist Larnell Lewis, guitarist Jocelyn Gould, Grammy-winning singer-songwriter and pianist Laila Biali and New York pianist Andy Milne will be among the Grammy-winning heavy hitters who will perform at this year's TD JazzYYC Summer Festival, offering a lineup that organizers hope will bring new ears to the genre in Calgary.
Content of the article
"I'm not trying to preach to converts with jazz," says Kodi Hutchinson, artistic director of JazzYYC. "We have a lot of jazz coming up and if you're a jazz fan you're going to be super happy. But I've always wanted to offer a wide range of music so people can find what they like. If they're new, they might see something in the lineup and say, "That sounds cool." Sounds like something I would like.
The festival, which takes place in various venues until July 3, will feature an international roster of talent. But there seems to be a focus on Canadians or expat Canadians. In fact, Hutchinson jokes that it's been dubbed the "Juno Festival" this year because so many of the lineup have won trophies over the years from the Canadian Academy of Arts and Sciences. recording for their contributions to jazz.
Content of the article
Gould, Biali and Andy Milne & Unison will play at Festival Hall on Thursday, Friday and Saturday respectively. Festival headliners The Larnell Lewis Band with Joy Lapps will perform at the Central Library on Saturday.
Lewis is perhaps best known as the percussionist of the Grammy-winning American jazz fusion ensemble Snarky Puppy. Lapps, his wife, is a composer and steel pan player. The show will explore Afro and Latin Caribbean jazz, R&B and soul.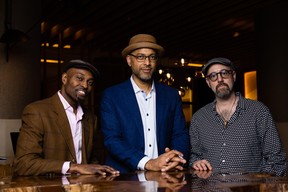 Milne, who is now based in New York, was mentored by Oscar Peterson. Andy Milne & Unison's latest album, 2021's reMission, won the Juno Award for Jazz Album of the Year by a Group.
Other highlights include The Heavyweights Brass Band, a Toronto-based outfit specializing in New Orleans-style brass, which will play The Ironwood Stage and Grill on Friday.
Content of the article
Kristian Alexandrov, Bulgarian-born, Calgary-based pianist and composer and former musical director for both trumpeters Jens Lindemann and Decidedly Jazz Danceworks, will perform with his trio, singer-percussionist Shannon Gaye and dancer and choreographer Tasha Lawson, on Thursday at Asylum for Art.
ES:MO, a duo of singer-pianist Elizabeth Shepherd and guitarist Michael Occhipinti will perform singer-songwriter fare reminiscent of Bruce Cockburn, performed at the Ironwood on Saturday.
Pianist Hilario Durán, who is based in Toronto but grew up in Havana, will be part of a double bill alongside Calgarian singer Tim Tamashiro on Saturday at Asylum for Art. Duran will also be hosting a Cuban piano workshop earlier today at Asylum for Art.
Content of the article
On Sunday, the festival will feature the all-day JazzWalk at Jack Long Park, a free program that will feature the Simone Lutzko Quartet, Calgary soul-jazz singer Joanna Borromeo, Juno Award nominee Durán, a " surprise band" at 5:45 p.m. and VOLK, a Calgary jazz supergroup led by trombonist Carsten Rubeling and featuring trumpeter André Wickenheiser, keyboardist Steve Fletcher, bassist Steve Shepard and drummer Steve Jackson.
"VOLK are the coolest band people don't know in Canada and I suspect they'll be touring soon because their Spotify feeds tell me they're definitely hitting their market," says Hutchinson. "Carsten Rubeling started the project because he wanted to connect with 20-somethings with jazz."
Hutchinson says there is at least anecdotal evidence that the festival has done its job of turning the curious but uninitiated into jazz fans.
"In 2019, the number of tickets we sold told me it couldn't be just jazz lovers," Hutchinson says. "Last summer we did a smaller festival that had a more Albertan focus. But when I looked at our outdoor stage in particular, the number of people I've never seen in my life – like hundreds of people – were missing. "
The TD JazzYYC Summer Festival runs until July 3. Visit jazzyyc.com